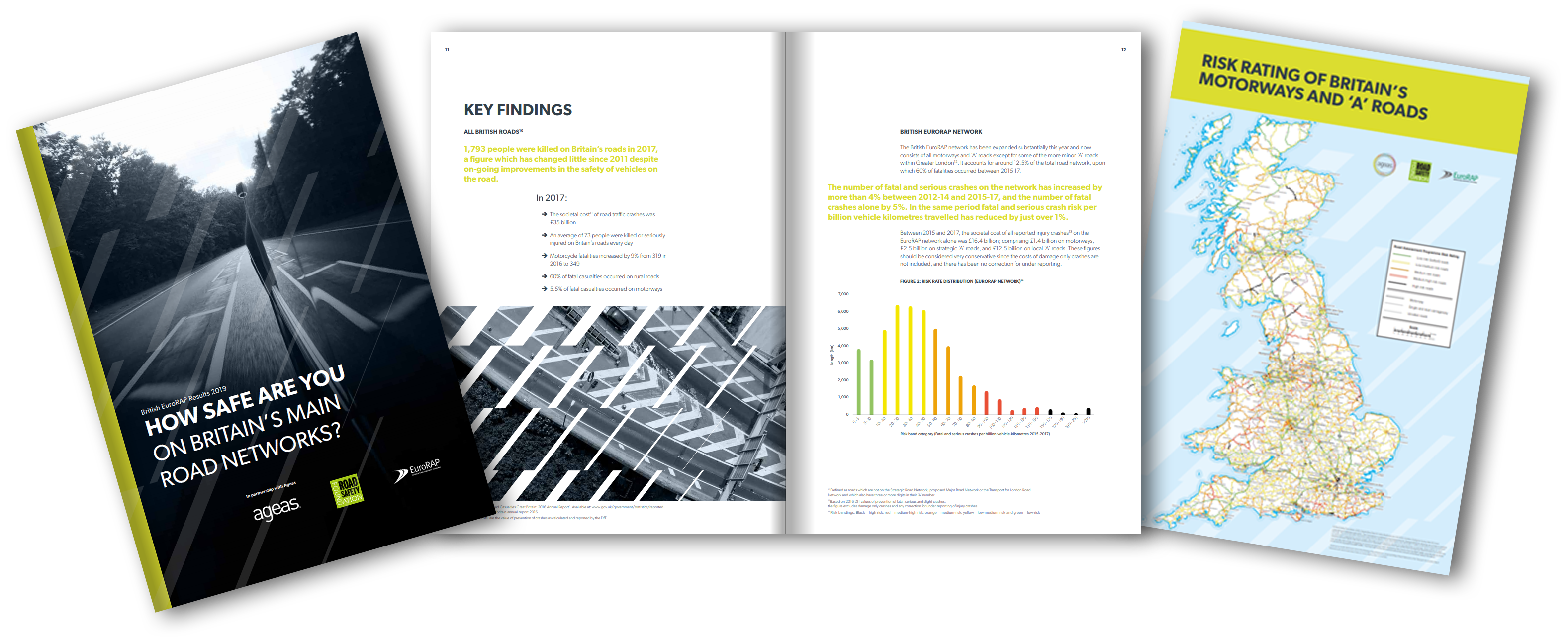 This annual report tracks the safety of the main 'A' roads where most of Britain's roads deaths are concentrated, and which can be targeted.
This year's survey shows, overall, the number of deaths on Britain's roads has changed little since 2011. For the first time, the surveys compare the major route networks which are the responsibilities of different authorities.
Striking progress has been made in Scotland. Over three years, the risk of death and serious injury has fallen by 6-7% on both the roads managed both by national government (motorways and all major routes) and on all other local authority 'A' roads. Scotland notably has adopted international best practice by having a formal target for casualty reduction with detailed supporting partnerships. Travel on Scottish major routes now has a death and serious injury rate of 13 per billion vehicle kilometres, the safest in Britain and one of the safest in the world. Scotland now has the lowest deaths per head in Britain overall.
The risk of death and serious injury on the network managed by the Welsh government is nearly 40% higher (18 fatal and serious crashes per billion vehicle kilometres) than in Scotland.
In England, the management of major routes is being changed. A new Major Road Network (MRN) is being created to complement the relatively sparse Strategic Road Network (SRN) run by Highways England (a network dominated by heavily trafficked motorways and high-quality dual carriageways). This new local authority run MRN will receive part-funding from the same pot as the SRN.
When England's networks of strategic and major roads are combined the risk is 15 fatal and serious crashes per billion vehicle kilometres – safer than the equivalent Welsh network (18) but not as safe as Scotland's (13).
The safety of strategic and major roads in England is of vital national importance to casualty reduction as nearly a quarter of all English road deaths are concentrated on this relatively short length.
However, the report reveals that it is the poor performance of the newly defined Major Road Network which is disturbing – more than 4 times riskier (35 fatal and serious crashes per billion vehicle kilometres) to travel on than Highways England's Strategic Road Network (8). Despite being only slightly longer and only carrying one third of the traffic, there were more deaths on the Major Road Network in 2017 (212 deaths).
By creating the network, Ministers have created a significant opportunity to act and address its safety as a first priority. The report highlights though that the government is yet to commit to safety performance goals for this complementary Major Road Network in the same disciplined way as for the Strategic Road Network.
The safety (and reliability) of England's Major Road Network can be tackled with packages of investment along whole routes identified by modern safety engineering tools. These generate very high economic returns (not least benefitting regional health and long-term care budgets). Leading authorities are already in the vanguard of this work.
This annual report identifies Britain's most improved roads and persistently higher risk roads. It calls for a new tranche of high return investment from the successful Safer Roads Fund to address 75 persistently higher risk road sections identified.
Released alongside the report is a data portal containing tools which allow practitioners to interact with the data used in the report.
Downloads:
Report: How Safe Are You on Britain's Major Road Networks?
EuroRAP GB Risk Map 2019 Strategic Road Network
EuroRAP GB Risk Map 2019 Proposed Major Road Network in England