We carry out and procure research into all factors affecting the safe use of public roads in the UK.

Our dedicated team come from a variety of disciplines and backgrounds, offering unique insights and drawing on a wealth of experience

CAMPAIGN
We lead the Campaign for Safe Road Design to raise understanding of how affordable road safety improvements can save lives.

EURORAP UK
The Foundation plays a pivotal role in raising awareness and understanding of the importance of road infrastructure through EuroRAP UK.
ROAD SAFETY FOUNDATION
The Road Safety Foundation is a UK charity advocating road casualty reduction through simultaneous action on all three components of the safe road system: roads, vehicles and behaviour.
The charity has enabled work across each of these components and several of its published reports having provided the basis of new legislation or government policy.
For the last decade, the charity has focused on leading the establishment of the European Road Assessment Programme (EuroRAP) in the UK and internationally. Since the inception of EuroRAP in 1999, the Foundation has been the UK member responsible for managing the programme in the UK (and, more recently, Ireland), ensuring the UK provides a global model of what can be achieved.
The Foundation also manages the Campaign for Safe Road Design on behalf of key stakeholders calling for Government commitment to make safe road design a national transport priority.
The Road Safety Foundation is a founder member of the FIA Foundation and frequently works with other FIA members in Britain and abroad. We also work closely with other road safety organisations including the RAC Foundation, AA, IAM, RoadSafe, PACTS and professional bodies such as ADEPT.
LATEST NEWS
The Road Safety Foundation has appointed Dr Suzy Charman as Research Director to lead its annual EuroRAP risk mapping and performance tracking results, as well as a ground-breaking project to improve safety on England's 50 highest risk 'A' roads. Dr Charman brings...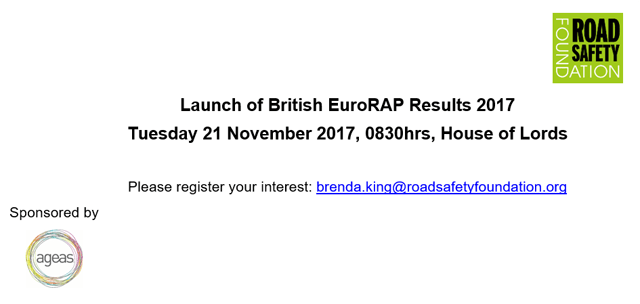 The launch of the Road Safety Foundation's annual EuroRAP Risk Mapping and Performance Tracking results for the British motorway and 'A' road network, sponsored by leading insurer, Ageas will take place on Tuesday 21 November from 0830hrs at a breakfast launch in the...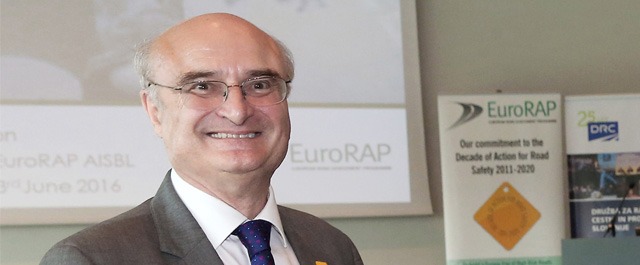 John Dawson is standing aside from his role as Chairman of iRAP as Gary Liddle takes over as its new Chairman.